Camping off your motorcycle is one of the great joys of 2-wheeled travel. It's not quite as bare-bones as backpacking, but it's a definitive leap in coolness past car camping. And don't get us started on RV "campers"….
Your moto camping experience can be frustrating or enjoyable, and the gear you bring is a large part of that. To help, we've compiled this Moto Camping Gear Guide of our favorite "don't leave the garage without it" gear. This is stuff we actually use, not just a collection of free goodies that we unboxed and photographed, that's been torture-tested and certified Woman Rider approved.
And incidentally, everything on this list was packed in the two side boxes on the Africa Twin in the above photo.
Tent – Marmot Limelight 2P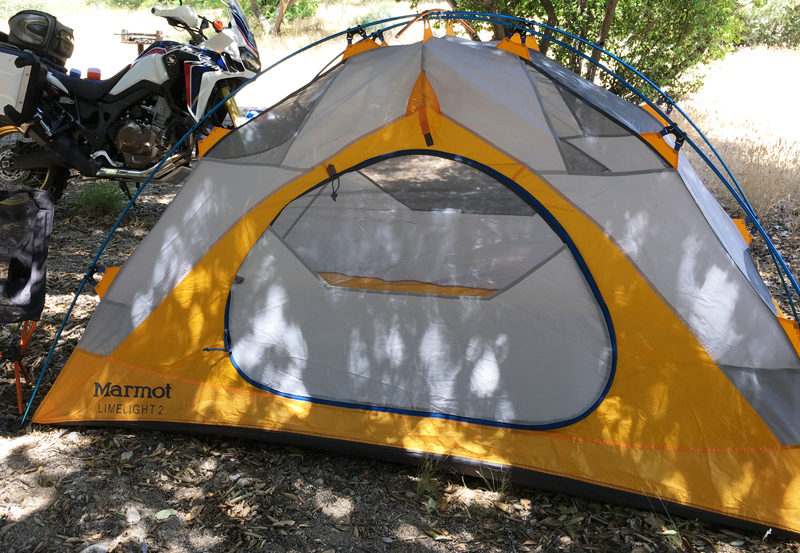 I've been using this tent for more than five years and it's put up with all sorts of abuse: gale-force winds when we camped at Miller Motorsports Park (now the Utah Motorsports Campus) for the World Superbike races, heavy rain (and even snow) in the Colorado mountains, scrubby desert floor…it even survived flying off the back of my ex's bike at 70 mph on the freeway. One pole got a little scuffed and very slightly bent, and the carry sack was shredded, but it still goes together perfectly, and I just carry it rolled and secured with a bungee now. When folded down and in their bag, the poles are about 18 inches long, which fits diagonally into most square-ish ADV bike luggage. They're easy to strap to the outside of a bag if you can't get them inside.
I like Marmot products because they're not outrageously expensive, they can often be found on sale at places like REI and Backcountry.com, and they're well-designed. I can pitch this tent by myself in less than 2 minutes. There's no fussing with threading a 10-foot pole through fabric sleeves, and no trying to hold everything together as you keep the poles in position and desperately stab them into the corner gussets. The tent clips to the poles securely and the poles are held in position with an x-shaped plastic piece at the crossover point. Seriously, it doesn't get any easier than this.
The Limelight includes a rainfly (that actually works) and footprint (ground cover to protect the tent floor), as well as a handy mesh "shelf" that's suspended from the ceiling and is a great place to put a light, bike key and your pStyle (see below). The current version has been redesigned to offer more headroom and a bigger interior, plus it now has two doors and two vestibules. Marmot simply made a great tent even better.
MSRP: $249
Packed weight: 5 pounds, 10 ounces
Packed size: 18 in. x 7 in.
Sleeping Bag – Nemo Rhumba 30 Long
Nemo says the Rhumba was designed for "sleeping like a human," and I couldn't agree more. I'm a side sleeper, and traditional mummy bags just aren't comfortable for me. I suffered for years before realizing that New Hampshire-based Nemo made something called a "spoon-shaped" bag, which has extra room in the shoulders and legs to accommodate people like me.
I opted for the women-specific Rhumba 30-degree down bag in Long (at 5-feet, 9-inches, I'm tall for a woman). If you're worried about getting cold in sub-30s temps, I'd recommend sticking with a bag rated at 30 degrees or more and using a liner for cold-weather trips. It'll save precious packing space for the majority of your trips that aren't that cold (let's face it, we're traveling on motorcycles).
For the Rhumba, Nemo uses special "DownTek" 650-fill power down that offers better performance if you accidentally get it wet. It also compresses all the way down to 5.5 liters, or about the size of a large cantaloupe. A pillow pocket, extra material and fill at the collar and dual zippers (so you can unzip around your legs if you get too toasty) are nice features as well. It's not cheap, but for me, a good night's sleep is the most important thing when I'm on the road.
MSRP: $259.95
Packed weight: 2 pounds, 6 ounces
Packed size (compressed): 5.5 liters
Sleeping Pad – Nemo Cosmo 25L
I opted for the Cosmo because, again, I'm a side sleeper, and I needed something to support my hips and shoulders, plus the Cosmo comes with an integrated foot pump. Yes, I may look funny standing there pumping up and down on my sleeping pad, and it takes a little while to fill (I've never timed it, but guess it's about 2 minutes), but when we're camping out at 8,000 feet and you're getting lightheaded from blowing into your air mattress, I'm happy to have my Cosmo.
The Cosmo also happens to pack down quite small, considering how thick it is. Fully inflated, it provides 3.5 inches of plush comfort, with a built-in raised pillow section and a twist valve at the corner that lets you fine-tune air pressure while you're on it. The one downside: it's loud. Any movement sounds like two balloons rubbing together, so if you're a light sleeper who tosses and turns a lot, earplugs might be a good idea.
My Cosmo is several years old, but as far as I can tell the only change Nemo has made is to offer it in a different color. It's rated for a minimum temperature of 35 to 45 degrees, but an insulated version is also available for lower temps. It comes with a carry sack and several patches (although I have yet to need one–knock on wood).
MSRP: $139.95
Packed weight: 1 pound, 13 ounces
Packed size: 9 in. x 4.5 in.
Pillow – Therm-a-rest Compressible Pillow
This is my one "luxury" item. I've tried the rolled-up jacket method and stacking clothes under my head—it's just not the same as having a nice, fluffy pillow. I use Therm-a-rest's Compressible Pillow in the Medium size (18 in. x 14 in. x 4 in.), which is more than big enough. The pillow has a soft polyester cover and is stuffed with pieces of foam that allow it to be compressed for packing. Once you unpack it, just give it a few shakes and "fluffs" and it puffs right back up.
MSRP: $22.95
Packed weight: 9 ounces
Packed size: 14 in. x 5 in.
Camp bathroom – pStyle
This little beauty will change your life, I promise. No more squatting over who-knows-what in the dark, no more finding a good place to hide, no more stripping off layers of motorcycle gear when you've really gotta go, no more "hovering" over questionably clean gas station toilets. Yes ladies, you can pee standing up.
There are a couple of designs out there, but I settled on the pStyle because it's simple and other reviews I'd read indicated that it works well, "even with a strong flow." Not having my cup runneth over definitely sounds like a plus. It takes some practice so you know how far back to hold it—I recommend the shower for your first time—but once you get the hang of it, you'll wonder why it took us this long to figure this out.
I opted for the carrying case as well, which lets you "whip it out" and go do your business discreetly.
MSRP: $12 + $12 for the carrying case
Chair – REI Flexlite Chair
This could be considered another luxury item, but it packs down so nicely I seldom go without it. It also lets me use the side boxes from the bike as tables if I'm not at a campground (which is fairly often). The REI Flexlite is a less-expensive version of the popular Helinox Chair Zero, but as far as I can tell it's just as robust and easy to use. Packing it back up tightly enough to fit into its carry sack can take practice, but once you know the tricks it's easy.
MSRP: $79.95
Packed weight: 1 pound, 10 ounces
Packed size: 15 in. x 4.5 in.
Camp lighting – Black Diamond Spot Headlamp, Moji/Moji XP Lantern
I always carry a headlamp with me; they're convenient for hands-free work around the campsite, and my trusty Black Diamond Spot gets the job done efficiently. It has bright white LEDs that are dimmable at the press of a button, plus red LEDs for when nature calls in the middle of the night, and the head swivels down so you're not blinding your fellow campers when you look at them. Mine is the old style, but the new one is the same price: $39.95.
If I've got the space, especially if I'll be staying at a campground with picnic tables, I like to bring a Black Diamond Moji or Moji XP lantern along as well. I don't like traditional lanterns; they're too big, and they also tend to make so much bright light that they ruin my night vision. The Moji solves this problem: it's small and dimmable, so you can go from full brightness to just enough to see by—or to scare away hungry raccoons. It comes in two sizes, the regular Moji ($19.95, 100 lumens max., 70-hour burn time, 4.3 ounces with AAA batteries) and the larger Moji XP ($29.95, 150 lumens max., 120-hour burn time, 7.9 ounces with batteries). Both include folding loops that let you hang them for more ambient lighting.
Stove – JetBoil Flash
I'm a minimalist when it comes to camping food. I'd rather not deal with actual prep work and cleanup, I just want to eat and get to my mug of wine. Modern backpacking freeze-dried meals have come a long way, and there are even some fairly healthy options out there (Alpine Aire being one readily-available brand). You can't beat them for lightweight, easy-to-pack convenience, and all you do is boil water (usually 2 cups or less), dump it in, stir and seal the pouch. 15 minutes later, voila!, Cuban rice and beans…or scrambled eggs with sausage, peppers and onions…or chicken tikka masala…or warm apple cobbler!
The quickest and easiest way to boil water at camp is a JetBoil Flash. It'll boil 2 cups of water in a little more than 2 minutes, and with its push-button igniter it's foolproof. It even has a heat indicator on the built-in insulation layer that tells you how close you are to coffee, hot cocoa or dinner. The whole thing disassembles in seconds and nests for secure travel. If you need more temperature control (with the Flash, it's all or nothing), step up to the JetBoil MicroMo.
MSRP: $99.95
Packed weight: 14 ounces
Packed size: 7.1 in. x 4.1 in.
Towel – REI Multi Towel Lite
If you know you'll be going someplace wet, or you want to be able to shower or go for a swim on the trail, this super lightweight towel will be your best friend. It's thin and soft, absorbs up to 8 times its weight in water and yet wrings out almost completely dry (like ShamWow! but without the annoying salesman). Fold it up and put it in its included mesh carry sack, and it'll pack easily into any available nook or cranny.
MSRP: $18.50 (size Large)
Packed weight: 2.9 ounces
The little things…
Disposable plastic utensils are not my favorite. I don't like creating more plastic waste, and they take up too much space. Do yourself (and the environment) a favor and pay a few bucks for a reusable spork. I like the ones with a spoon on one end and a fork on the other.
An insulated mug is perfect for hot cocoa, coffee, water, soup, wine…whatever. Mine also has a lid so my coffee stays hot, even on chilly mornings. More expensive variations incorporate a folding handle for easier packing.
Hot sauce packets are a quick and easy way to spice up your freeze-dried meals, and they're lightweight, easy to pack and don't need refrigeration.
I always carry a packet of disinfectant wet wipes—they're perfect for cleaning your hands before eating, a quick and easy "bath" after a hot day on the bike and wiping off your cooking equipment/utensils after you eat (be sure to rinse them with water afterwards).
Do you have any favorite camping gear? Tell us about it in the comments!