What's it like to tackle the Three Flags Classic, one of the most unique organized endurance rides in North America? First, allow me to share some numbers with you.
2,175 The number of miles covered on the official route.
4 The maximum number of days allowed to complete the ride.
5,040.6 The total number of miles I rode: to the starting point, over the course of the ride, then back home again.
279 The shortest one-day mileage of my trip. (Leaving work after lunch, Camarillo, California, to Blythe, on the Arizona border)
826 The longest one-day mileage of my trip. (The final day on the ride home, from Castle Dale, Utah, to Sylmar, California…via a lot of curvy roads. In retrospect, not the best decision.)
9 My total number of riding days.
79 The maximum temperature swing I experienced in one day (34 degrees to 113).
221 Riders that registered.
200 Riders that finished the ride.
0 Accidents.
The Three Flags Classic (3FC) is probably the best-known endurance riding event you've never heard of. Put on by the Southern California Motorcycling Association, which is celebrating its 50th anniversary this year, the 3FC is a test of human and machine, where riders travel through three countries (Mexico, United States, Canada) and more than 2,100 miles in just four days.
The route usually runs from a start point in Mexico to a finish in Canada, but every few years they mix it up and run north to south. This year, the 43rd 3FC, we went from Puerto Peñasco, on the Sea of Cortez, to Calgary, Alberta, at the eastern edge of the Canadian Rockies.
The level of organization is incredible. Clubs from Mexico to Canada, plus local businesses along the way, come together to arrange start and finish hotels, checkpoints and dealership support, and grease the skids as best as possible for border crossings.
Being the lucky girl that I am, I had my pick of motorcycles on which to do this epic ride. I wanted something small enough that I could handle any parking lot or road surface, but with plenty of luggage capacity and elemental protection. Cruise control and heated grips were a must. And I didn't want a cruiser; I wanted the freedom to lean as far as I wanted on the twisty bits.
My choice? A Yamaha Tracer 900 GT. I requested one with the accessory comfort seat and touring windscreen, but Yamaha went above and beyond by also outfitting it with a rear luggage rack, engine guards, a radiator guard, an extended front fender and a full Yoshimura exhaust system.
I also wanted to upgrade a couple items, namely the tires and brakes. So we spooned on a set of new Dunlop Roadsmart IIIs and some DP Brakes pads.
I was set.
In the good old days there was a lottery system; the 3FC was so popular that prospective riders had to mail in their check (remember doing that?) and wait, hoping to be randomly chosen as a participant. Times are changing, though, and riding motorcycles – let alone riding them for 12 hours a day, multiple days in a row – isn't as popular as it once was.
Still, 221 riders registered for the 2018 3FC, most from the U.S. and Canada but also at least four from Mexico. With such a large group you'd be forgiven for imagining a miles-long parade of Gold Wings, but nothing could be further from the truth. The 3FC is an event we did at the same time, but we were all in it for ourselves…if that makes any sense.
We could follow the recommended route…or not. The only rule is that riders must arrive at the designated checkpoints within certain time frames, usually in the afternoon/early evening of each riding day and for a few hours the following morning. Beyond that you're on your own. What time to leave each day, where/when to stop for the night, where to sleep and where/how often to eat are all on you.
We were given green strips of ribbon to tie to the backs of our motos, marking us as "3 Flaggers." What ends up happening is you ride past a gas station and look over – green ribbons! Raise your hand in a wave, get a wave and a thumbs up in return…maybe get passed by that same rider an hour later, another wave and a smile inside the helmet. It's like going on an epic quest, but with the safety net of knowing there are a couple hundred other questers out there too with the same goal, and they all have your back.
Finishing the 3FC was a proud moment for me…I was sore, tired, my ears were burning where my cheap foam earplugs chafed for 12 hours a day, I'd sweated in triple-digit heat and wiped slush from my visor in a surprise snowstorm. I'd done it.
Oh yeah…and then I had to ride home.
Learn more about the 3FC here.
At this point we were only a few hours from the finish line in Calgary, the homestretch. When it began to rain, no one thought much of it. But the temperature gauge on my Tracer was dropping at a concerning rate. The rain turned to sleet…35 degrees. We pulled over so Duncan could clear his fogging glasses. Trucks whooshed past, coating us with needle-fine spray, big cold drops of sleet poured from the sky.
As the road curved to the east and started to ascend, I looked up the side of the hill. The grass was white…snow!
Riding in snow is not my idea of a fun time. As I carefully cruised in the left tire track of the car in front of me, all I could think was, "How crappy would it be if I fell down only 50 miles from the finish – after 3 days and 2,100 miles!" I really wanted the finish and the accomplishment that goes with it.
After an eternity, we crested the ridge and descended the other side. The clouds cleared, the temperature went back up and as we pulled into a gas station to regroup we felt like heroes.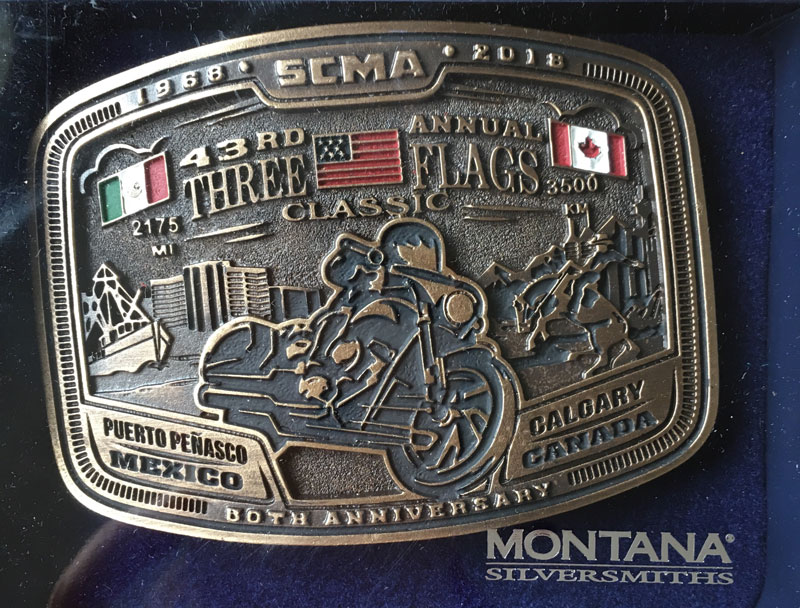 Riders came from as far away as Virginia and even Hawaii, and five Canadian provinces, to participate in this year's 3FC. It always takes place over Labor Day weekend, minimizing the required time off work (unless you're lucky enough to be retired, as many of the participants were).
Sound like something you want to try? Let's do it! The 2019 3FC is slated for a start in Mexicali and a finish in Kelowna, BC. I'm game if you are….