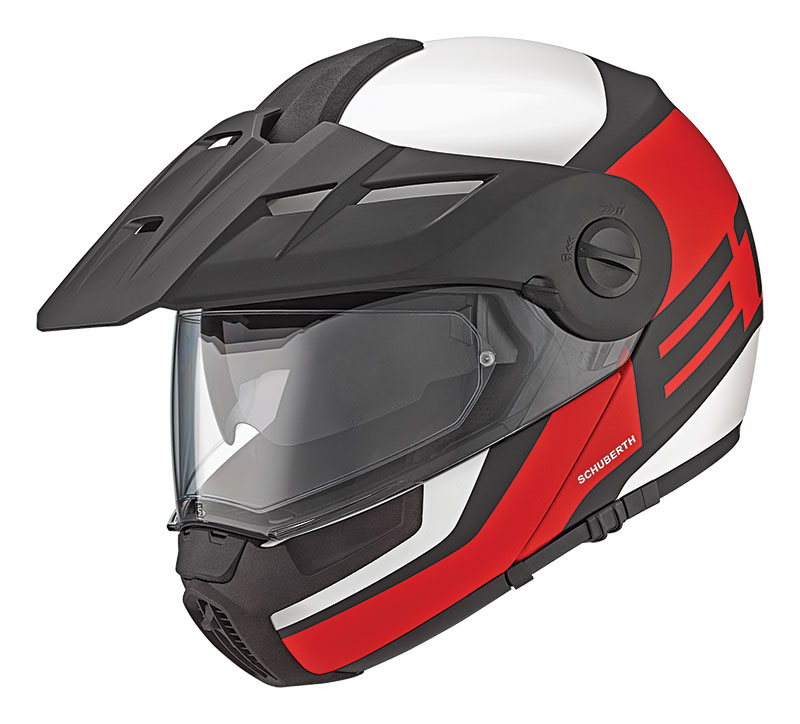 It's easy to understand the appeal of modular helmets: quick stops are much more convenient when you don't have to remove your helmet to chat with the gas station attendant or grab a quick snack or drink of water. Modular designs have been popular on street helmets for years, but with the growing adventure bike trend, several helmet makers have released modular designs featuring typical "adventure" helmet characteristics: a peak to deflect rocks and debris, an enlarged eyeport to allow plenty of visibility (and often large enough to accommodate goggles), a removable visor and plenty of ventilation.
German manufacturer Schuberth, which has been making safety helmets since the 1940s, recently unveiled its entry into the adventure helmet segment: the E1. Based on its popular C3 Pro modular street helmet, the E1 is modified for light adventure duty with an adjustable and removable peak and added ventilation in the chinbar, which directs more fresh air at the rider's nose and mouth. Like the C3 Pro, the E1 also features an integrated drop-down sun visor, toolless Easy Change face shield with included anti-fog insert, two integrated FM antennas for use with the optional SRC communication System and Schuberth's A.R.O.S. (Anti-Roll-Off System), which keeps the helmet from rolling forward off the rider's head and reduces the risk of the chinbar contacting the throat or chest in an accident.
The E1's removable and washable Coolmax liner has a luxuriously soft texture that even the most grizz-led, haven't-shaved-in-three-days adventure rider will appreciate. I found the peak and visor to be very easy to remove and reinstall despite my not even having glanced at the instructions. The chinbar latch is metal-on-metal and it opens and closes easily with a single release button. Venting is adequate from the closeable chinbar and top vents, although the integrated sun visor meant Schuberth couldn't include forehead vents, often the only type that truly work on a peaked adventure helmet.
Helmets are a bit like boots, in that fit can be quite subjective; we can't help the shape of our heads, and unfortunately mine is not of the Schuberth variety. I experienced a nagging pressure point on my forehead, and found the eyeport to be too small; I prefer a larger port for riding off-road, the better to see and pick my way along the trail. But I will say that the E1 is one of the quietest adventure helmets I've worn, and it was a pleasure on the highway. At a tested 4 pounds in a size small, the E1 is no lightweight, but for a modular fiberglass-shelled helmet with an integrated sun visor, that weight is in the ballpark.
The DOT-rated E1 comes in five solid colors ($829) and five graphics ($889), in sizes XS-3XL.
For more information, see your dealer or visit schuberth.com.