Bobbers are quite possibly the original performance custom motorcycles. Riders have been stripping extraneous parts and "bobbing" fenders since knickerbockers and straw hats were in fashion. The idea is simple: take an ordinary motorcycle, remove anything not related to going fast, including rear shocks, side covers, and passenger seats and pegs, chop off the fenders to their most minimal size (or better yet, toss them in the bin with the other bits you've removed) and soup up the engine. Voilà, instant speed machine/hooligan bike/cool ride.
Part of the whole point, of course, was to build your own. There was no such thing as a "factory" bobber—and how cool could one really be? Admittedly, my expectations upon arriving in Madrid, Spain, for the global launch of the 2017 Bonneville Bobber were modest. Oh, the bike looks awesome, and it's one of the most anticipated new models to be announced this year. Triumph itself has made it clear that it built the Bobber to appeal to customers looking for a certain aesthetic—but so often in the past, building for style has also meant a compromise in performance.
The Bobber was built around the Bonneville T120's 1,200cc "High Torque" engine, but apart from that it shares very little with its T120 brethren. This isn't just a "bobbed" Bonneville, it's an entirely new motorcycle. Its frame, front and rear suspension, handlebars, instrument display and fuel tank are all new, and thanks to a new 2-piece airbox design, output shaft, intake, exhaust and special tuning, its parallel twin pumps out a claimed 10 percent more midrange power and torque than the T120. It talks the talk, and walks the walk.
Walking around the bike in the morning get-to-know-you phase, I realized how much better the Bobber looks in person than it does in pictures—and that's saying something! Up close, it exudes a powerful attitude and has a long, low stance that was quite different from the stubby image I had in my head. The attention to detail and fit-and-finish are top-notch.
The Bobber's "Clean Lines" packaging hides almost every wire, cable, hose and piece of technology, an important touch for a bike meant to evoke simpler times. Even the discreet radiator's expansion tank is cleverly hidden within an attractive brushed silver panel on the right side of the engine. Viewed from the side, there is a lot of visible space around the engine, and the exhaust pipes cut a straight line along the bottom of the frame, with no bulbous emissions control units.
I knew I'd look cool on the Bobber, but I also expected to pay a price for it: a sore back, bum and shoulders. Pleasant surprise number one—the Bobber is pretty comfortable! The small solo tractor seat is skillfully dished, and despite looking perilously thin it has ample padding. Triumph says it spent quite a bit of time on that seat, and it shows. It's attached to a cantilevered arm bolted to the frame behind the gas tank, and locates the rider a comfortable reach from the bars, with the footpegs positioned for a 90-degree bend in the knees.
It's also adjustable, requiring the removal of one bolt and the loosening of another, allowing the rider to slide it along the arm rearward and down, up to a max of about 2 inches. I didn't try it, as I was enjoying the somewhat sporty forward position in the twisty mountain roads outside Madrid. Another journalist, who towers above my 5-foot, 9-inch frame at 6-feet, 4-inches, moved his back by about 1-½ inches, and his verdict was a preference for the stock position as well.
To maintain the all-important aesthetic, Triumph designed the Bobber's frame to look like a hard tail, and tucked the single rear shock (adjustable for preload only) and linkage under the seat. Because the engineers only had to worry about tuning the stock suspension for a single person (hooray for solo seats!), the handling was pleasant surprise number two. Even at the hard pace we were riding, dragging the Bobber's footpegs through corner after corner, the bike felt planted and stable. The rear single shock soaked up small bumps, transmitting nothing to the seat floating above it.
Like the T120, the Bobber uses ride-by-wire, which allows for switchable traction control and two ride modes, Rain and Road. Both modes allow full power, but the Rain mode uses a more relaxed throttle map that brings the power on more gently for wet or slippery conditions. ABS is also standard. Both handlebar levers are adjustable, and the Bobber's torque assist clutch makes easy work of navigating through stop-and-go city traffic.
Out on the open road, tall gearing, plenty of power (a claimed 77 horsepower at 6,100 rpm and 78.2 lb-ft of torque at 4,000 rpm) and an open exhaust note lead to pleasant surprise number three. The Bobber is really, really fun to ride. It pulls hard in every gear up until about 5,500 rpm, and even our Triumph factory companions mounted on Tiger Explorers had a hard time keeping up with my riding group when we throttled out of corners. The Bobber is no sportbike, but with a skilled rider aboard it will hold its own in the canyons.
On the highway, the low seating position keeps the rider out of the worst of the wind. Sixth gear is basically an overdrive, and once engaged at about 75 mph, the Bobber carries you along smoothly, its satisfying exhaust note still audible. In fact, the slash-cut "sawed-off" peashooter mufflers were designed to allow the rider to hear the bike. As Triumph puts it, why let only the guy behind you enjoy the sound?
If the Bobber has a weakness, it's the brakes. Remember my comment earlier about performance being compromised in the name of style? Triumph opted to give the bike a single 310mm disc and 2-piston Nissin floating caliper up front, and a 255mm disc with single-piston caliper out back, to better match the traditional bobber look. Riders who don't use the rear brake pedal will want to retrain themselves, as even a forceful squeeze of the front brake lever alone results in a disconcerting lack of slowing down. When I mentioned this to one of the Triumph reps, he told me to give the rear brake pedal a solid push as well. Following his advice, the Bobber was more willing to "whoa," but I'd still prefer a bit more bite when riding hard.
My overwhelming impression of the new Bobber, however, is very positive. It looks unlike any other mass-produced bike out there; in fact, I'm hard-pressed to pick its primary competitors (Harley-Davidson '48? Yamaha Bolt? Maybe the Indian Scout?). And it backs that incredible style and attention to detail with honest-to-goodness power and handling. It's fun. It's what a motorcycle is supposed to be.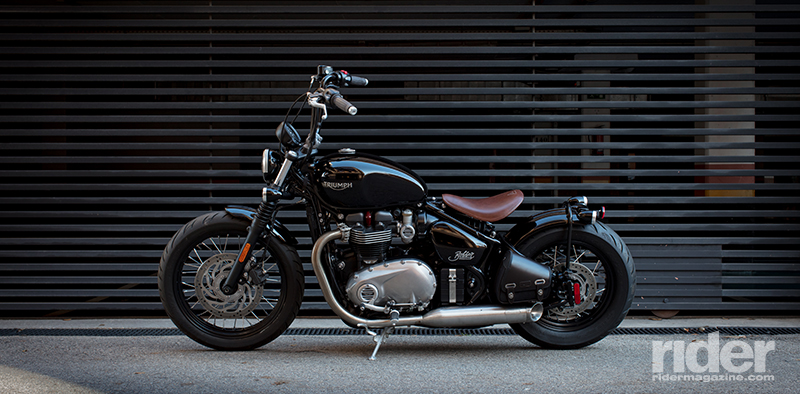 Triumph dealers are taking deposits now, with the first units expected to hit U.S. shores in late February/early March. The Bobber will be available in four colors: Jet Black, Morello Red, Competition Green/Frozen Silver, and Ironstone. U.S. pricing will start at $11,900 for Jet Black; the other colors will carry an upcharge. Triumph will offer more than 150 custom parts and accessories for the Bobber, as well as two complete "Inspiration Kits" that will let riders turn their Bobber into a ride all their own.
Even in stock form, the Bobber cuts an imposing and iconic silhouette. If you're looking for a ride with style, attitude and performance to match, this might just be your dream bike.
2017 Triumph Bonneville Bobber Specs
Base Price: $11,900 (Jet Black)
Website: triumphmotorcycles.com
Engine Type: Liquid-cooled, transverse parallel twin, SOHC, 4 valves per cyl.
Displacement: 1,200cc
Bore x Stroke: 97.6 x 80.0mm
Transmission: 6-speed, wet multi-plate assist clutch
Final Drive: X-ring chain
Wheelbase: 59.4 in.
Rake/Trail: 25.8 degrees/3.5 in.
Seat Height: 27.2 in.
Claimed Dry Weight: 503 lbs.
Fuel Capacity: 2.4 gal.
MPG: NA
Jenny's Gear:
Helmet: Bell Bullitt
Jacket: Scorpion Catalina
Riding Jeans: Saint Model 1
Boots: Dainese Bahia