The puns write themselves…. Monkeying around. Monkey business. Monkey see, monkey do. When you embrace the #powerofnice and climb aboard the new Honda Monkey, it's impossible to take yourself seriously.
I mean, come on, it's the Monkey. As in "more fun than a barrel of…."
A little backstory on the Monkey bike before we dive into the particulars: back in 1961, an amusement park in the Tokyo suburbs called Tama Tech debuted a ride to promote the "joys of driving," using little bikes dubbed the Z100 that used Honda's 50cc Super Cub engine.
(Side note: why can't we have amusement parks that let you ride around on 50cc motorbikes??)
The ride was so popular that Honda introduced a CZ100 production bike in Europe and Asia in 1963, with an off-road-only Z50A introduced in the U.S. in 1968. Honda sold 50,000 Z50As that first year, and a legend was born. An entire generation learned to ride on the little Z50 (which was nicknamed the monkey bike due to how grown-ass adults looked on the thing).
In 2013, Honda introduced the 125cc Grom, blowing the doors open in a new (for the U.S.) mini-moto category previously inhabited mainly by Ruckus owners who'd stretched, stripped and souped-up their scoots into little twin-headlight hooligans.
Nearly 40,000 Groms have been sold in the U.S. since then, impressive when you consider its stock top speed is only about 65 mph, and the mini-moto subculture is growing. Turns out it's pretty fun to rip around on a small bike.
Now we come to the 2019 Monkey, a Z50 clone powered by the Grom's 125cc, air-cooled SOHC 2-valve single. It also shares the Grom's easy-shifting 4-speed manual transmission, 31mm USD fork, single front and rear brake discs with optional one-channel IMU-based ABS, and a tubular steel main frame.
Apart from the obvious styling differences, changes include a new rear subframe and swingarm, dual rear shocks, a model-specific air cleaner, intake and muffler, and a new crankcase cover.
The bottom line is that, yes, the plethora of existing engine and fork upgrades currently available for the Grom will work on the Monkey bike as well.
At this point I'd normally begin my in-depth assessment of the bike's handling, power, performance, etc., but let's face it: this is a 232-lb, sub-10-horsepower mini-moto. The 125cc four-stroke has enough grunt to get you up a twisty hill, 12-inch wheels spinning furiously beneath you, and it's geared fairly tall so don't be afraid to downshift. It'll even tackle some light off-road riding, but you'll want to maintain momentum if you encounter any loosely packed hills.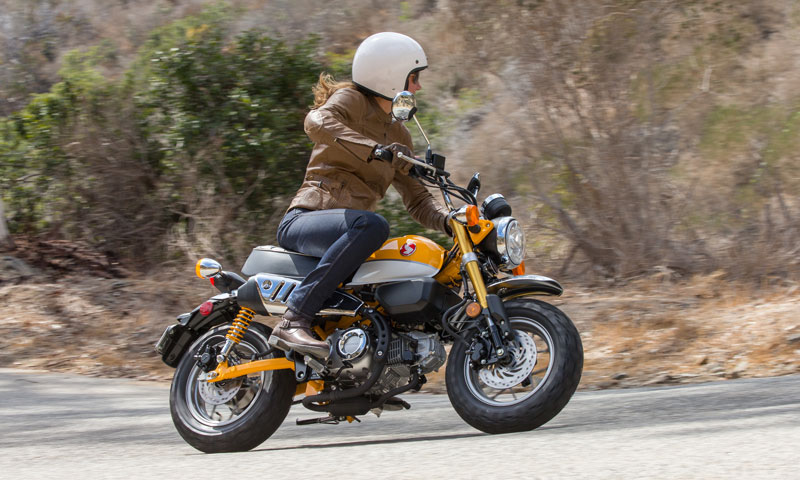 The brakes aren't great, the suspension is squishy and I don't think we topped 40 mph on our test romp around Catalina. But if you're concerned about hard performance figures you're sort of missing the point.
The Monkey is all about one thing: having fun. It's meant to hook you on the experience of riding a motorcycle in a way that's been somewhat lost over the last few decades. If this thing doesn't bring a smile to your face, there's something wrong.
Freeways aren't going to be a very safe option, at least not without some mods, but if you're happy keeping it under 65 mph the Monkey is a hoot. It'll tootle around town happily, and your biggest issue is going to be the amount of times you're stopped by people who want to know what you're riding and how they can get one.
I lost count of the number of golf cart-driving tourists on the island that asked me where they could rent one, and one young guy on a street corner yelled out a compliment that I can't repeat here…let's just say he thought the Monkey bike is "freaking" cool.
Its diminutive size and positively adorable style makes it approachable for just about anyone, which is exactly what Honda wants. As its U.S. reps put it, the Monkey is a brand ambassador, exactly what the Cub and Z50 were back in the 1960s, when you'd meet the nicest people on a Honda.
Whether it's on the back of an RV, terrorizing the streets of your subdivision, scooting through traffic in town or barreling off a jump at the annual Smoky Mountain Crawl, the Monkey will bring a smile to your face—and likely to the face of anyone who happens to be watching.
Want one? The 2019 Honda Monkey will be available in dealerships starting October 1. It's available in Banana Yellow or Pearl Nebula Red for $3,999 (non-ABS) or $4,199 (ABS, available in red only).