This is Part One of a 3-Part Series on Your First Track Day
So you've decided to take your bike to the track. First off, congratulations! You'll likely learn more in one day of track riding (especially if you've also opted for professional instruction) than you would in an entire summer of street riding.
Now it's time to prepare yourself and your bike for what will be a long, exhausting and fun day. We'll cover preparing and outfitting yourself first.
Suit Up!
Depending on the track day organization or school that is hosting the event, you will need either a one- or two-piece leather riding suit. If it's a two-piece suit, it should have a full-circumference zipper around the waist, to attach the jacket to the pants. Many organizations do not allow textile suits, unless you are participating in a non-sportbike track day. Check with your track day organizer to see which type is required.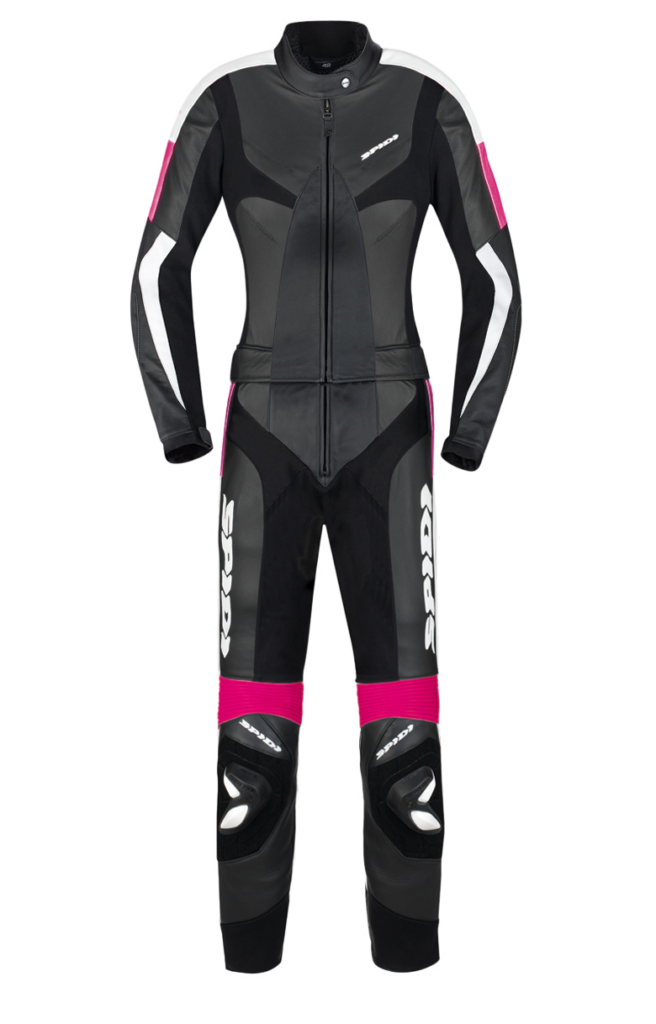 Pro Tip: Many track day organizations offer suit rental, which can be a great way to save some money if you aren't ready to invest in a suit of your own.
Leather suits are available in prices ranging from a few hundred to more than two thousand dollars. Generally speaking, the more expensive a suit, the higher quality the leather (often including exotic leathers like kangaroo), and the better it will hold up in a crash. There's a reason we call cheaper leathers "one-crash suits."
Like any riding gear, a leather suit will only work to protect you if it fits correctly. Don't guess at your size; take your measurements.
Pro Tip: If you don't have a flexible measuring tape, use a piece of string or rope and hold or mark at the spot you're measuring, then straighten it out and use a regular measuring tape to record the length.
When choosing a size, remember to factor in your back protector (see below). Once you get your suit, try it on with your base layers and armor. It should fit snugly at first; the leather will stretch up to a half-inch, especially on the back and buttocks area. Make sure you have plenty of movement in the knees, shoulders and hips. Many suits incorporate stretch or accordion panels in these areas to allow for this.
If you'll only be riding in hot weather, a perforated suit might be a good option. It's easy to get overheated when you're expending so much physical and mental energy.
Pro Tip: Leather suits aren't waterproof, and you can imagine what a perforated suit will do in the rain! Lightweight rain suits are available from numerous vendors and slip on easily over your suit in case Mother Nature decides to pay a visit.
Watch Your Back
The track is actually one of the safest places you can ride: it's a controlled environment with no traffic, wildlife or road debris to worry about, and emergency medical crews are standing by in case of an incident. That said, speeds at the track can be significantly higher than what you encounter on the street. Wearing a CE-approved back protector will give you added peace of mind and safety.
Some back protectors also include a kidney belt for additional support and protection.
Pro Tip: Back protectors with articulated spine pads allow you to bend forward in a tucked position comfortably. Just make sure they also are designed to prevent over-extension in the other direction.
Put a Lid on It
A comfortable and properly fitting DOT-, ECE 22.05 or Snell-approved helmet is one of the most important pieces of gear you should own. For the track, you'll need it to be a full-face model as well, for comfort at high speeds as well as safety.
Read our review of the Shoei RF-1200 here.
Most track organizations require you to wear a helmet that was purchased no more than five years ago. There's a reason for this, and it's not because they're in cahoots with the helmet manufacturers. The EPS liner of a helmet (that's the part that absorbs and dissipates energy in an impact) breaks down over time. Oil and sweat from your skin, as well as hair products, precipitate this. Investing in a new lid every five years is a pretty cheap insurance policy against head injury…or worse.
Pro Tip: Ideally your helmet's fit should be very snug. Most track day sessions only last about 20 minutes each, so a slightly tighter fit won't be as uncomfortable as it might if you were on an all-day street ride.
These Boots Are Made For Riding
Your lace-up street boots or riding shoes might look great when you walk into your local rider hangout, but they're not ideal for the track. Look for sport or track-ready boots with solid ankle and shin protection. A sturdy sole, preferably with an internal shank, will not only protect your foot in the event of a crash, but will also provide added stability when you're pushing hard on the pegs.
Pro Tip: Most high-end boots incorporate some custom fit options. Make sure your boots will expand enough in the calf to still fasten securely over your leathers (and their internal leg/knee armor).
Like a Glove
For some reason, gloves are an often-overlooked piece of gear. But the fact is, your hands are often one of the first parts of your body to hit the ground in a crash. Unlike helmets, for example, which are subject to DOT and other standards, gloves can be manufactured with careful attention to detail or slapped together from second-rate materials—and it can be hard to know what you're getting.
Look for a minimal number of seams, which indicates larger pieces of leather are being used, rather than several small pieces. Every seam represents a potential failure zone in a crash. Double-stitched seams are less likely to burst on impact or with extended periods of sliding.
Read our review of the Held Air n Dry gloves.
Hard knuckle protection and reinforced palms protect from impact as well as abrasion. Double closures on the wrist will prevent the glove from flying off. A Kevlar lining adds a layer of heat and abrasion protection. Some gloves include a sewn-on piece of leather that "bridges" the third and fourth fingers, helping to prevent damage.
[one-half-first]
[/one-half-first]
[one-half]
[/one-half]
Pro Tip: Finger seams, especially on the palm side, can dig in uncomfortably, so look for gloves with those seams sewn on the outside of the shell (see images).
Cover Your Bases
Shorts and a t-shirt might sound like the most comfortable items you can wear underneath your leathers, but in reality they're not the best choice. Armor and tight-fitting leather can chafe and get uncomfortable, especially when you're hot, sweaty and moving around on a bike. Long, moisture-wicking base layers will provide a thin extra layer between your skin and your gear, and will help keep you cool to boot! Base layers should fit snugly to maximize the sweat-wicking effect and to prevent them from bunching up under armor or at your elbows and knees.
Pro Tip: Base layers also provide an added benefit: they make it easy to slip into and out of your leathers, especially when you're sweaty!
Now Let's Talk About You…
So now that you've gotten yourself outfitted, it's time to think about preparing your body and mind for the rigors of a track day.
Your mom was right, you should get plenty of rest the night before. Lay off the alcohol, as the last thing you want to deal with is a headache and dehydration. Consider getting a hotel room near the track if it's a long drive; making the drive the evening before and getting a good night's sleep is worth it.
Try to eat a decent breakfast that incorporates some protein as well as healthy carbs, like oatmeal or whole grain toast. As delicious as pancakes and crème brulee French toast is, the sugar crash you'll get at 10:00 a.m. will put a serious damper on your performance and mood. If you're not a breakfast person, bring along a granola bar or two for a mid-morning snack once you've woken up.
Most tracks lack for decent food options, so it might be a good idea to pack a lunch. You'll work up an appetite, we promise! Keep plenty of water on hand as well, and be sure to drink some every time you finish a session.
Most importantly, get ready to have a great time!
Up next: Part Two of our Track Day Tips & Hacks: Preparing Your Bike