Wild temperature swings of up to 60 degrees in a single day, remote campgrounds and a plan—or at least six versions of it, because you know, a girl needs options! Welcome to adventure motorcycling. Not for the faint of heart, but full of sights and experiences that will burn into your memory. My friends Chris Shepherd and John Carlson share a long history of riding enthusiasm (from dirt bikes to Harleys and, eventually, to BMWs), a curiosity for tinkering, a need to escape the cold winters in Minnesota and a love of freedom. We recently had a 1,374-mile adventure together through Nevada, Utah and Colorado.
Las Vegas to Cedar City
As with all of our adventures, it starts with rescuing the BMW R 1200 GS motorcycles from their storage locker near the airport. After an hour of tweaking and minor repairs, we unleash the bikes and tear up the pavement on Interstate 15, leaving the lights of Las Vegas, Nevada, behind us as fast as we can. The heat is so intense we can feel it radiating from the road like hot breath against our feet. The entire landscape is barren desert floor shrouded with a haze of heat.
At Cedar City, Utah, we turn southeast on Utah Route 14 and the scenery changes: cedar, birch and jack pines surround us. The mountain creek keeps us company as we carve through the mountains and canyon along the road to our campground. With each turn the temperature falls. By the time we make camp at Cedar Canyon Campground, it is barely 50 degrees.
The temperature shifts are radical today, kissing 100 degrees in Vegas and dropping to 39 at night at Cedar Canyon. As we sit by the campfire we can see each other's breath. I am three layers deep in clothes and rain gear and I'm still freezing!
As is our ritual while sitting around the campfire, we discuss any improvements in our gear and routine that we are trying on the trip. The guys have new camp chairs: Helinox from REI. The verdict is good. At 2 1⁄2 pounds each, they're 6 pounds lighter than their former chairs, and are more compact so they fit into panniers.
Cedar City via Bryce Canyon to Mexican Hat
Good morning at 39 degrees! Yeow, where is the coffee? Overnight rain leaves us cold and wet, but spirits are high as we dream about the visual overload ahead. After a beautiful zigzag on State Route 143 north past Panguitch Lake Resort, then a short stint south on U.S. Route 89, we pass oft-visited Bryce Canyon National Park on State Route 12 heading east. Next up is what the guys call "The Spine," and is known locally as "The Hogback," a portion of Route 12 between Escalante and Torrey. The road is a narrow ridge of pavement atop the canyons on either side. It is a hair-raising experience. Every corner takes your breath away. Cars and RVs perch precariously on the edge (which is hardly a shoulder), as cameras madly capture the beauty of this area. We do the same, but have to make tracks with the bikes as there are rain clouds swirling in every direction.
We rocket off of the spine but are eventually caught by the rain. On goes the rain gear, down goes the temperature. I have learned a lot from these two—the first of which is being prepared for anything. This is the second time we are donning rain gear and heated clothing today.
The rain does not last long, and once again we stop on the side of the road to change clothes as the temperature rises again. After more gorgeous scenery on Route 12, it ends at State Route 24, and Capitol Reef National Park is to the east, where mountains that seem to be weeping sediment greet us. Their pool of tears at the bottom range in color, the most striking of which are solid gray mounds so high they are almost hills.
After more spectacular scenery in Glen and Fry Canyons on State Route 95 south, a visit to canyon country wouldn't be complete without sampling State Route 261 from near Natural Bridges National Monument to the town of Mexican Hat, down the Moki Dugway. This exciting, mostly dirt switchback road can be treacherous for novice riders, but my dynamic duo and their motorcycles conquer it in stride. The views are spectacular as we drop down the side of the cliff. The Valley of the Gods and Monument Valley await us at the bottom.
One of John's favorite campsites, Goosenecks State Park, is not far from Mexican Hat but seemingly in the middle of nowhere, hugging the rim of a canyon overlooking the San Juan River below, with Monument Valley on the horizon. There are no fences here. You pick your spot and mind your step, or you will find yourself tumbling into oblivion. We pitch tents quickly, and then head back to Mexican Hat for dinner at the famous Swingin' Steaks restaurant.
I have heard about the Swingin' Steaks for years, and now I know why. The strong, silent cowboy in a black Stetson hat is the chef and grill master and has perfect timing, pushing the swinging grill over the hot fire while simultaneously plating up heaps of pinto beans and Texas toast. It is just as entertaining as it is delicious. And if you're not into red meat, no worries—he can grill up a mean veggie burger as well.
Mexican Hat to Ridgway, Colorado (via Monument Valley, Silverton and Ouray)

When I wake at 4:46 a.m., John is already up and breaking camp. Time to see Monument Valley! We watch the sun rise while we wait for the JetBoil to heat the water for coffee. The morning light is spectacular over the canyon and Monument Valley in the distance. By 7:30 a.m., we are making tracks to the valley from Mexican Hat before the flocks of tourists arrive. It does not disappoint. The buttes, spires and red rock give it the feeling of standing in the middle of an old western movie set.
The heat of the day is already upon us so we leave Monument Valley for more visual overload. U.S. Route 160 is our ticket out, heading toward Durango, Colorado, for a bite to eat and to count the numerous green crosses for wellness centers. In Durango we pick up U.S. Route 550, a.k.a. the Million Dollar Highway, through the San Juan National Forest and the historic towns of Silverton and Ouray. It's worth every penny of its name, possibly the best scenery Colorado has to offer.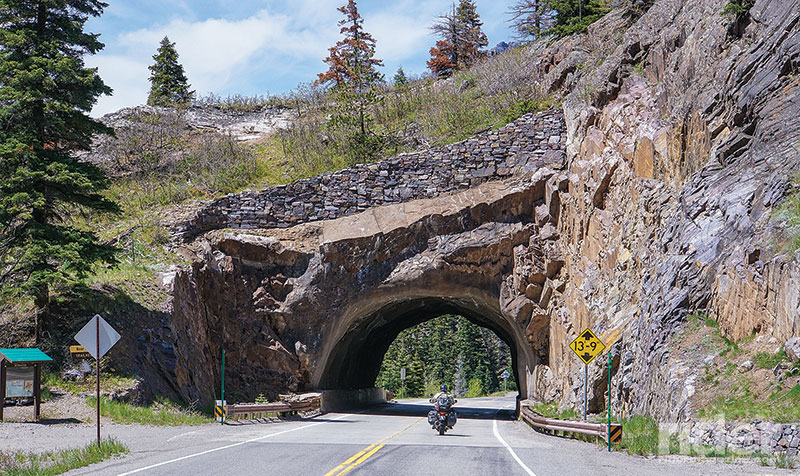 In Ridgway we stop at 520 Burgers, which offers all kinds of its namesake, from yak to elk to traditional beef, and the staff is awesome—friendly and true spirits of the area. Ridgway is a quiet but beautiful town nestled in the foothills of the Rockies and home to a number of amazing campgrounds. We select Pa-Co-Chu-Puk Campground at the foot of the mountain range. It is my first ever "walk in" campsite, meaning you literally walk everything you need to your spot. We pick one only 20 feet from the river, which is lined with fly fisherman on both sides. Their casting is as productive as it is beautiful, with sizable trout being plucked from the river for dinner.
Pa-Co-Chu-Puk becomes my new favorite place because they have showers, an amazing thing after three days of hard riding, dusty roads and two stinky boys. Clean and fed, we talk and laugh the night away by the campfire, listening to the river a few feet away.
Ridgway to Breckenridge
After a sunrise breakfast of coffee, Pop Tarts and powdered sugar doughnuts, John says that today's route will be "dynamic." "We don't have a plan or a specific destination or a place to sleep. Let's see what happens." And with that, we are off, south on State Highway 62 for a bit before making our way north on State Highways 145 and 141, the Unaweep-Tabeguache Scenic Byway. The wide sweeping corners and views of the mountains on both sides of us are outstanding. Soon we are lost in the scenery and the peacefulness of the area. Our trance is broken when a herd of elk bolts across the highway. It is amazing and terrifying all at once. Coming windshield to snout with a massive animal will definitely get your heart thumping!
We don't settle down much as the scenery continues to deliver exciting turns and wide sweeping views of the canyons on Highway 141. This is one of John's top five roads in the U.S. Along the way there is a small scenic overlook that has a unique historical aspect most travelers would fly right past. The Hanging Flume is one of the top 100 internationally protected sites. Built over the Dolores River Canyon, the open water chute was constructed in 1889 to transport water for a local mining operation. It is an amazing sight set amongst a breathtaking canyon vista.
After the Flume we stop at a diner in Gateway that looks like it belongs in the food truck lot in Austin, Texas. The menu is simple, but the food is outstanding. As we eat we see thunderheads forming and we know the weather is turning against us. We fire up the bikes and leave the beauty of the canyons to make tracks toward Denver, where the guys will once again store the motorcycles before we all catch a flight back to Minneapolis. At Carbondale, the raindrop dodging is over as the storm clouds engulf us. On goes the rain gear, out comes the cell phone. John grudgingly resorts to finding a hotel in Breckenridge that will allow us to stay dry and more importantly, to get the bikes and gear dry before they have to be stored in the locker tomorrow. It is a tough and windy ride over the high passes on Interstate 70, but we make it just fine.
The next day we make the easy trip from Breckenridge to Denver, where the guys spend more time getting the BMWs ready for their next adventure: crisscrossing mountain ranges to Reno, Nevada. After that, who knows? One thing is certain—it will be a visual masterpiece with plenty of laughs along the way.